Schools and businesses: a powerful lever for future innovation
When talking about innovation at Manitou Group, people automatically think of the machines of tomorrow. An integral part of the company's DNA and at the core of each department's concerns, innovation is also developed externally through fruitful collaborations with young talents.
For a few years, Manitou Group has been organizing innovation challenges, demonstrating its openness to work with universities and schools, with a win-win perspective.
For the company, there are numerous objectives: making people aware of the strengths of its industrial tools, which are sometimes less popular with young people than with other groups, developing and modernizing its image, strengthening its links with local schools and, of course, attracting future talent!
For the students, these challenges are a great opportunity to find out about the professional world working alongside a leading company, develop their skills, come up with innovative ideas that can be put into action, get themselves known and prepare for their future.
With the successful conclusion of two initiatives, this June has been full of innovative proposals from talented young people.
For the fourth consecutive year, Manitou Group has awarded the winners of the "Handling the Future" competition for schools.
This year's theme focused on the Purchasing department and the future of these jobs by addressing the following question: "A new vision for Purchasing: which transformations for which innovations?"
"Organizational procedures in the Purchasing department have changed rapidly in recent years and are set to change even more rapidly in the future because of the many areas of technological innovation and social change", explains Maurizio Achilli, Vice President Sourcing.
Once again this year, the competition generated an enthusiastic response, with 110 students from ten schools looking into the question for almost seven months.
At the final on June 16, first prize was awarded to the "Watching The Future" team from PPA Business School in Paris. Their project involved installing connected glasses for carrying out remote supplier audits. This initiative appealed to the jury because of its innovative aspect and the fact that it reduces CO2 emissions linked to travel for face-to-face audits.
The event is already scheduled for next year!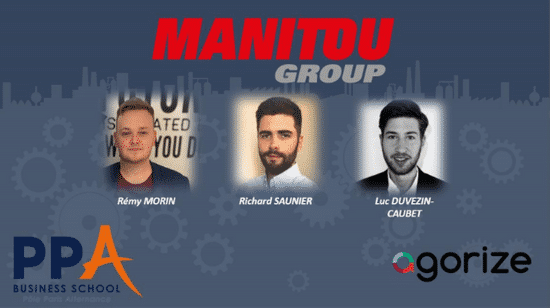 Another example of the close ties with the region's schools is the project between L'École de Design Nantes Atlantique and Manitou Group. This brought together for the first time students from the Human Machine Design program, trainee UX designers specializing in connected environments (objects and interfaces) and a team put together at Manitou Group.
Who initiated this project? Thierry Lehmann, design manager at Manitou Group and participant in the Human Machine laboratory at the Design School. "With the acceleration of digitization of companies, the synergies between the company and the school became increasingly apparent. So we suggested that the students work on a major issue: safety on work sites. "Zero accidents" is a key challenge in construction, and digital technology can provide a wide range of solutions today", he explains.
With the acceleration of digitization of companies, the synergies between the company and the school became increasingly apparent.

Thierry Lehmann, Design manager
The students' objective was not to devise a safer machine, but to take a service-oriented, value creation approach to achieve zero accidents. In regular interaction with a Manitou Group steering team, they worked on a usage scenario, which they presented on June 15, 2020. Among the proposed options was a connected device digitally linking drivers, machines and pedestrians to generate a map in real time. It would then be possible to create zones reserved for machines, operators, etc., evolving throughout the day. Another idea was a connected solution to make changes to older equipment that does not have the latest technologies in order to ensure an optimal level of safety for users. Ideas to be explored in the years to come, perhaps?