Shareholding
Data Sheet
Initial public offering: April 24, 1984
Manitou BF shares are listed on Compartment B of Euronext Paris
ISIN: FR0000038606
LEI: 9695008SHP3XTT9QCM25
REUTERS: MANP.PA
BLOOMBERG: MTU.FP
MARKET INDICES:
CAC ALL SHARES, CAC ALL-TRADABLE
CAC INDUSTRIALS, CAC MID & SMALL,
CAC PME, CAC SMALL, EN FAMILY BUSINESS,
ENT PEA-PME 150
"Classic" SRD
Ordinary shares with a par value of 1 euro.
Closing of accounts on December 31 
Management of the liquidity contract: Portzamparc Stock Exchange company
Calendar of the intervention windows: Negative windows 15 days before the publication of the quarterly turnover, 30 days for the half-yearly or annual results.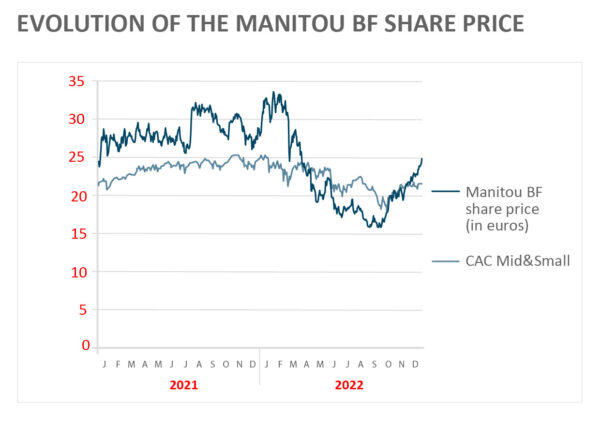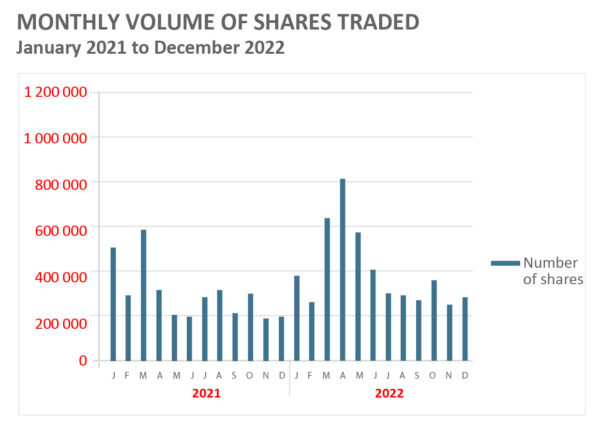 Capital allocation
As of December 31, 2019, the share capital amounted to €39,668,399, allocated into 39,668,399 shares with a par value of €1, all in the same category, fully paid up.
In the absence of double voting rights, this number of shares corresponds to the number of theoretical voting rights. The difference between the number of real and theoretical voting rights is the number of treasury shares.
Main shareholders: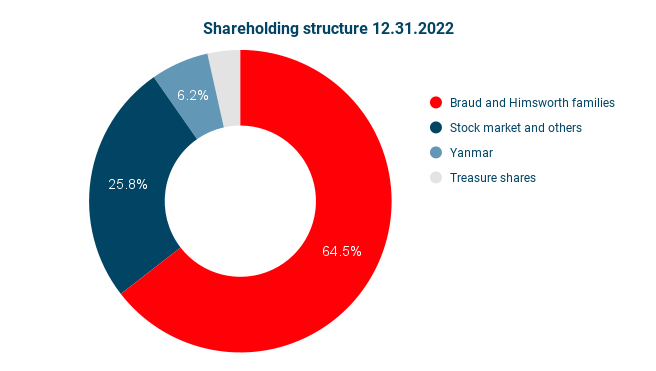 Shareholder's agreement
The family shareholders signed a shareholders' agreement on May 3, 2017. This agreement, with an entry into force date of June 10,  2017, for a period of 4 years, replaces the agreement signed on June 9, 2011 between the two groups.
Share price history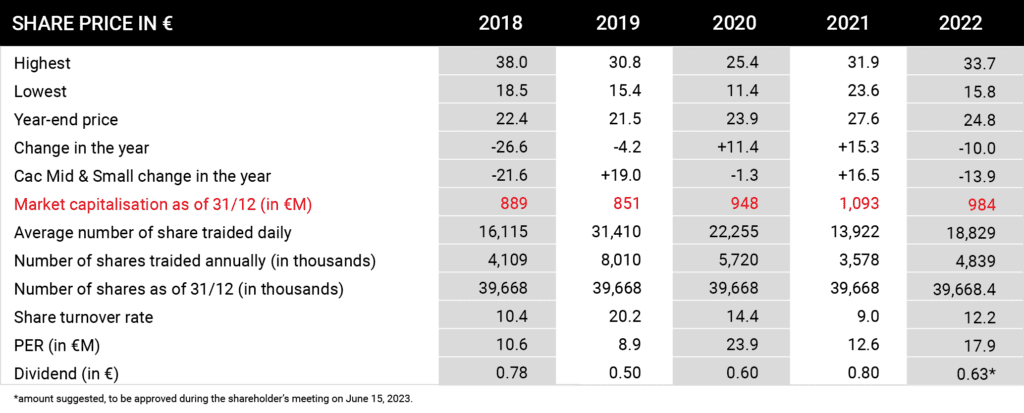 Dividend
Manitou BF Board of Directors, having met on March 2, 2023 and April 11, 2023, decided to propose to the Shareholders' Meeting of Mai 25, 2023 to approve the distribution of a €0.63 dividend per share.
Dividend calendar:
Ex date : 05/30/23
Record date : 05/31/23
Payment date : 06/01/23
Shareholder relations - Contacts
Head of Financial Information: Hervé Rochet, Secretary General - CFO
Investor contact: communication.financiere@manitou-group.com